The prolific promotion of COVID policy interventions by the media has unfortunately had astonishing consequences.
There's been an undeniable surge in mental health issues, with teenagers and children especially affected.
Many spent their remaining years of junior or high school lives stuck locked away by needlessly terrified adults. Others were forced to miss out on the formative years of early education or the start of their time in college.
COVID vaccine mandates eliminated the once sacred freedom of choice. The media helped gaslight the public into accepting forced compliance, implying that losing jobs or healthcare was a reasonable trade off.
Discriminatory policies have and will continue to have long-lasting consequences. Societal disruption, as well as a collapse in economic health and success. And of course, a substantial portion of the population who will never move on from masks and COVID boosters.
But what makes this so much worse is that a growing body of evidence confirms that none of it was remotely effective.
Public Health's COVID Response Was Useless
A substantial group of researchers recently published a study on the impact of "COVID-19 pandemic policies and behaviours and their economic and educational trade-offs across US states from Jan 1, 2020, to July 31, 2022."
What they attempted to do was to compare mandates and behaviors across states. Their goal was to determine the importance of those policies in relation to COVID outcomes.
They imply that the US could have had a better response, based on the relative success of states of like Vermont and Hawaii compared to Mississippi, for example.
But they immediately undercut that argument by identifying the factors that caused Mississippi to have worse outcomes. Higher poverty rates, lower educational attainment and comorbidities were all associated with more infections and higher death rates.
Those are not pandemic related problems that could be solved with government imposed shutdowns and mask mandates.
Vermont, Hawaii and other areas had immense natural advantages, as did other countries.
Not because of their weather or population density. But because they had higher incomes and healthier populations.
Hawaii's median household income is roughly $83,000 per year. Mississippi, by contrast, has a median household income of $46,511 per year.
Gee, wonder which one did better.
Despite clearly operating under the assumption that "science based" policies would guide certain states to better COVID outcomes, even they were forced to admit that authorities were hopelessly outmatched.
"Higher public health spending and more public health personnel per capita were not associated with infection or death rates," they write.
Well who could have predicted this, except literally anyone who's paid attention to public health authorities over the past few years.
READ: RON DESANTIS WORKS TO PERMANENTLY BAN MASK AND VACCINE MANDATES IN FLORIDA
Public Health Got 'The Science' Wrong
The endless flip flopping and authoritarian impulses. Blatant double standards when it came to protests in 2020. Political posturing, and lack of intellectual humility have been both awe inspiring and undeniably damaging.
No wonder it made absolutely no difference how well funded or staffed public health departments were.
Even more unsurprising, the measures that public health authorities pressed for the most proved to be exceptionally pointless.
Perhaps the best indicator is a map of the United States showing the researchers adjusted comparisons of COVID mortality rates.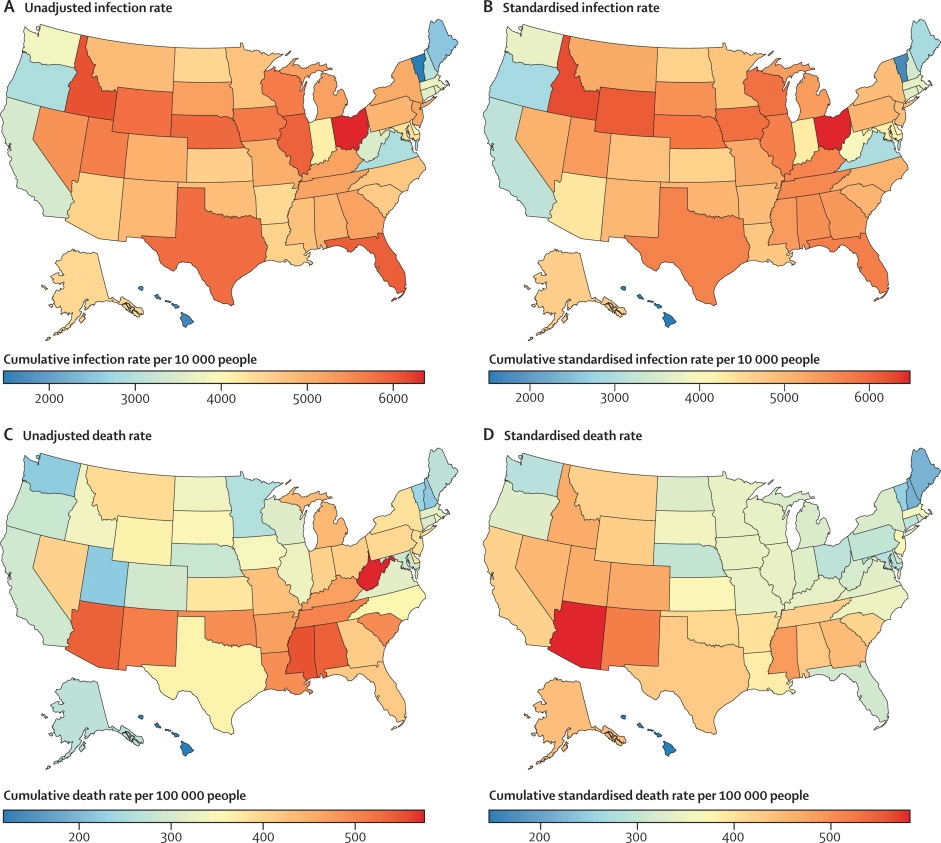 Notice how Florida outperformed California after adjustment? Amazing that the strictest lockdowns and most prolific COVID mask mandates were unsuccessful, isn't it?
Of course, there's another glaringly obvious conclusion to draw from this graphic: regional factors matter. A lot.
It is clear that Mississippi, Alabama, Arkansas and Tennessee have a lot in common. As do Georgia and South Carolina and most of the central and upper Midwest.
And what do you know, their results are clustered close together.
The actual data behind the map makes it even more obvious.
Data Proves COVID Mandates Were Unnecessary
After adjustments, Florida is now the 12th best performing state in the country. With a governor who was nicknamed "DeathSantis" by the media, public health "experts," and huge swaths of the public.
The District of Columbia is now the second WORST performing "state." Despite having vaccine mandates, mask mandates, strict lockdowns and one of the most "science following" populations.
New Mexico, the state Scientific American once claimed "controlled" the spread of the virus, is third worst performing.
Colorado, with its Democratic governor and liberal population is now one of the 5 worst performing states.
In fact, despite the media's assertions to the contrary, Democrats controlled three of the five worst performing jurisdictions. And the absolute worst just elected a Democratic governor after voting for two Democratic senators.
Not exactly a red state problem, now is it?
Ohio and Nebraska, squarely red states, "overperformed" despite relatively lax policies.
And California. Oh, California.
Gavin Newsom, who repeatedly attempts to "taunt" other states about their COVID performance, led California to one of the 16 worst outcomes.
Deep red South Carolina did better, as did Oklahoma. Both states never had mask mandates.
Doesn't look too good for Gavin now, does it?
Why Did Anyone Listen To Public Health?
The lack of connection between strict mandates and COVID metrics is so obvious that even the researchers had to acknowledge it.
No state sponsored mandates were remotely effective at preventing COVID deaths, according to their charts. Not one.
If anything, there was a slightly greater likelihood of mask mandates being associated with higher standardized death rates.
Mandate propensity, how frequently states imposed mandates, was associated with higher death rates. As were closed schools and gathering restrictions.
Mask usage also didn't matter, with the confidence interval ranging the entire possibility of outcomes from association with lower rates to higher rates.
None of it worked, none of it matters.
There's a wealth of information in this study, with further conclusions to draw.
But it's vitally important to publicize the findings on politics, mask mandates and lockdowns. Because of their tremendous ancillary costs and continued media promotion.
There is no excuse for anyone to continue misleading the public into thinking that mandates and other "interventions" have any possible use or effectiveness, or that public health authorities were remotely prepared or qualified to generate better outcomes.
At this point, the only real question is why anyone ever listened to them in the first place.