Tennis legend Martina Navratilova appeared to react to comments from Megan Rapinoe over transgender participation in women's sports as the soccer star gets set to participate in her final World Cup later this month.
Rapinoe was asked about transgender athletes in women's sports in a recent interview with Time magazine. Rapinoe said lawmakers were "trying to legislate away people's full humanity" and said she would accept a transgender woman replacing a biological female on the U.S. national team.
As the comments circulated across the internet, Navratilova chimed in with one word.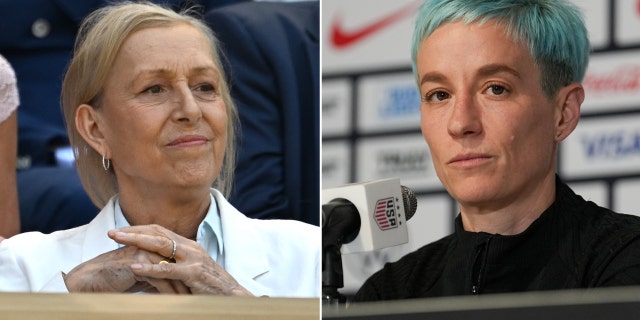 "Yikes…" she wrote.
The nine-time Wimbledon champion has been an activist for the gay community but has been against transgender women competing against biological women in sports.
In March, she applauded World Athletics for adopting a policy to exclude transgender female athletes from women's competitions. She called it a "step in the right direction."
"In the wake of World Athletics' announcement, I think the best idea would be to have 'biological female' and 'biological girls' categories and then an 'open' category," she wrote in an op-ed in The Times of UK.
Rapinoe, on the other hand, was one of 40 professional athletes to co-sign a letter to House lawmakers in April in opposition of the Protection of Girls and Women in Sports Act, arguing that the bill would exclude women and girls from getting "mental and physical health benefits."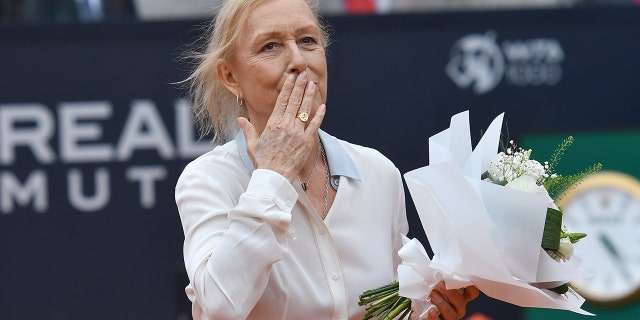 US SOCCER STAR MEGAN RAPINOE WOULD SUPPORT TRANS ATHLETE ON USWNT ROSTER: 'I SEE TRANS WOMEN AS REAL WOMEN'
"It's particularly frustrating when women's sports is weaponized," Rapinoe told Time. "Oh, now we care about fairness? Now we care about women's sports? That's total bulls—. And show me all the trans people who are nefariously taking advantage of being trans in sports. It's just not happening."
She explained why she would accept a transgender female on the U.S. women's team.
"Absolutely," she said. "'You're taking a 'real' woman's place,' that's the part of the argument that's still extremely transphobic. I see trans women as real women. What you're saying automatically in the argument—you're sort of telling on yourself already—is you don't believe these people are women. Therefore, they're taking the other spot. I don't feel that way."
Rapinoe will make her final World Cup appearance this month as the United States Women's National Team heads to Australia and New Zealand with the hopes of making history: becoming the first women's or men's team to win a three-peat.
The 38-year-old soccer star announced over the weekend her plans to retire at the conclusion of the 2023 National Women's Soccer League season.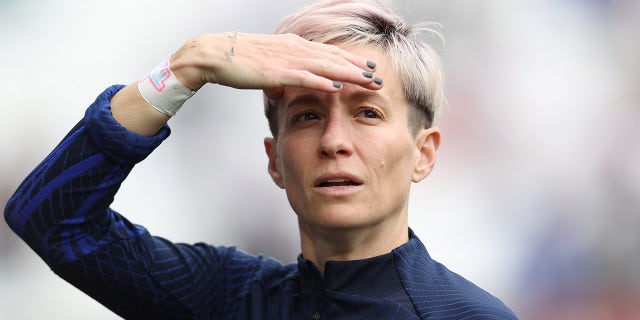 An Olympic gold medalist and two-time World Cup champion, Rapinoe will compete in her fourth and final World Cup beginning on July 20.
This article was contributed by Ryan Gaydos of Fox News Digital.
*Fox News' Paulina Dedaj contributed to this report.