Before Super Bowl LVII gets underway on Sunday night, the U.S. Navy is set to make history with an all-female flyover. Six women will buzz over State Farm Stadium in Glendale, Arizona immediately following the playing of the National Anthem.
The momentous occasion will commemorate 50 years since females were allowed to become pilots for the maritime service branch, which began teaching women to fly in 1973. Six of the eight initial enrollees, known as 'The First Six,' earned their Wings of Gold the following year.
Sunday's flyover will honor their groundbreaking achievement with another monumental feat.
The formation will in feature two F/A-18F Super Hornets from the "Flying Eagles" of Strike Fighter Squadron (VFA) 122.
An F-35C Lightning II from the "Warhawks" of VFA-97 will also be in the air.
They will be joined by an EA-18G Growler from the "Vikings" of Electronic Attack Squadron (VAQ) 129.
The full Super Bowl LVII flyover team consists of:
Lt. Arielle Ash of Abilene, Texas
Lt. Margaret Dente of North Salem, New York
Lt. Jacqueline Drew of Waltham, Massachusetts
Lt. Lyndsay Evans of Palmdale, California
Lt. Saree Moreno of Tampa, Florida
Lt. Naomi Ngalle of Springfield, Virginia
Lt. Kathryn Martinez of Springfield, Virginia
Lt. Caitie Perkowski of Albuquerque, New Mexico
Lt. Taylor Rudolph of Memphis, Tennessee
Lt. Suzelle Thomas of Birmingham, Alabama
Lt. Cmdr. Calli Zimmerman of San Jose, California
Lieutenants Ash, Dente, Ngalle, Drew, Thomas and Martinez will be in the air on Sunday.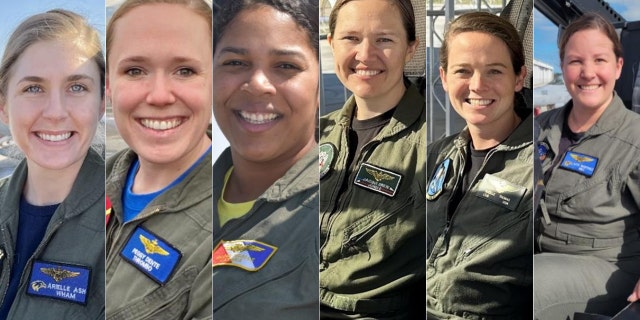 Lt. Dente will conduct the flyover, which will be her first. She admits to having some nerves, but embraces how they keep her honest, humble and focused on the mission.
"Truly, there is no greater honor," said Lt. Ngalle.
Today, in 2022, women make up about 15% of naval aviators. They will be represented well as the four fighter jets fly over Super Bowl LVII, just moments before the Eagles and Chiefs play for a world championship