As inflation and the cost of living continues to rise, Penn State offensive lineman Ibrahim Traore is doing what he can to help give back. The redshirt junior recently broke the fundraising record on a new charitable platform, Champsraise, with help of head coach James Franklin and the Nittany Lions fanbase.
Traore, a former three-star recruit, arrived in State College in 2020. Over the course of the last few years, he has intrenched himself in the community and grown to love the people around the university.
As Traore became increasingly involved in the Pennsylvania college town, he noticed that there is a large population of residents who can't afford the most basic need known to mankind— food. He wanted to help.
To do so, Traore turned his focus toward the State College Food Bank, which began as a temporary solution to a temporary need in October of 1982. As the need grew, so did the Food Bank.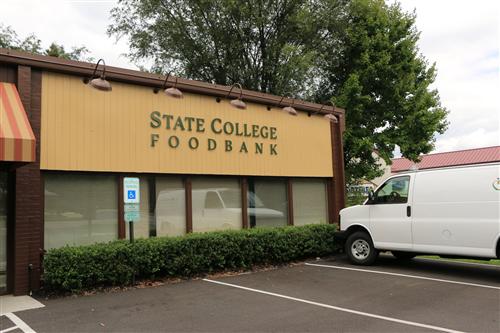 Today, the Food Bank consists of more than 120 volunteers and provides as many qualifying clients in the Centre County area as possible with food security. However, as inflation continues to rise across the country, it is becoming increasingly difficult for families to access food and the client list only continues to grow.
Grocery prices have gone way up. As has demand. Some food banks are spending nearly double the amount of money on the same amount of food as it has in the past.
In addition, due to soaring prices, people who were previously able to donate more extravagantly have had to cut back. Some cannot afford to donate at all.
This is where Penn State's Ibrahim Traore set out to make a difference.
What he didn't know is how quickly that the community would rally around his cause.
Earlier this week, Traore launched his campaign on Champsraise, the world's first charitable crowdfunding platform for college and pro athletes. Franklin and offensive line coach Phil Trautwein, with more than 290,000 Twitter followers combined, immediately spread the word.
In less than two hours after launching his campaign, Traore had raised $911.80. The resounding support helped him break a Champsraise record.
Traore is thrilled, but he recognizes that there is still a lot of work to be done.
I appreciate the supporters and Nittany Lion fans that generously donated to the State College Food Bank, which is a cause near and dear to my heart. However, we need all the donations we can get!

— Ibrahim Traore
Both Champsraise and Traore's campaigns are young. There is still a lot of growth to be had within the platform, and with the lineman's fundraising.
To donate, Traore's campaign can be found here.