Jameis Winston had to let the fish know who is boss. So he did. And it was hilarious!
As the Saints continue offseason workouts and minicamp down in New Orleans, the players took some time away from the facility to grow as teammates and develop the off-field chemistry. To do so, they hit the bayou for a very Louisiana-style team-building activity.
The tradition started way back in 2014 and has been rolling ever since. Saints players drive out to the swamp and get after some redfish. This year, they partnered with Premier Bowfishing Charters.
It was a great success. Derek Carr is changing his name to Derek Gar.
Bowfishing is not like normal fishing, but the concept is as simple as it sounds. In lieu of a baited hook and a rod, bowfishing uses a compound bow.
Most bowfishing is done at sunset and into the night, so New Orleans decided to cancel its workouts for Thursday to allow the players to get after it. Cam Jordan, Tyrann Mathieu, Derek Carr and Michael Thomas were among those to make the trip, but it was Winston who stole the show.
Matt Grupe, an undrafted rookie kicker, documented the evening on TikTok and the 29-year-old former No. 1 overall pick was having a blast. Not only did he get a fish, he proceeded to talk smack to the tiny redfish as it floundered on the end of his bow.
Later in the evening, after catching a sizable gar, Winston put the fish in its place.
WE GOT YOU, BOY!

WE GOT YOU, BOY!

OH MY GOD WE GOT ONE!

I TOLD YOU!
Only Jameis Winston…!
Carr's former teammate and rumored Saints receiver target Hunter Renfrow took note of how fun the trip looked. He wants to be invited on the next trip.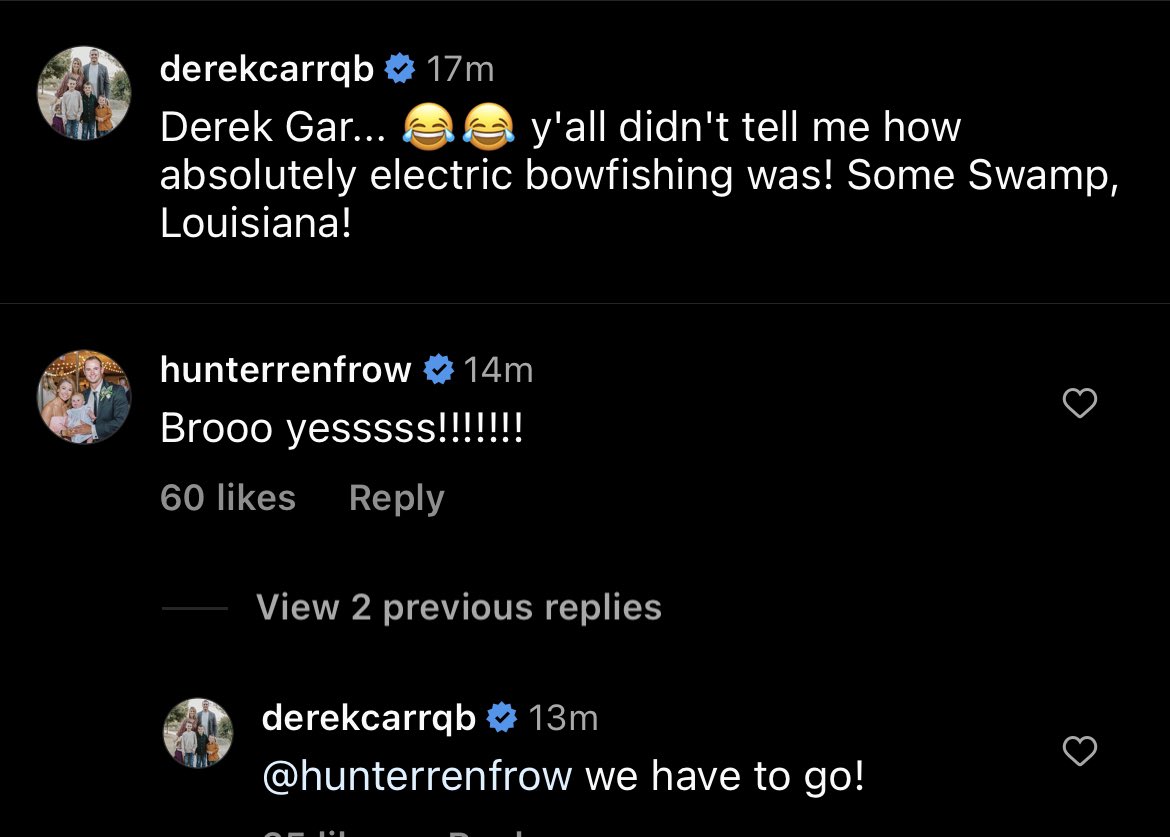 New Orleans will get back to regularly-scheduled workouts on Monday.