Fear not, fellow booze hounds. If it takes you four or five tallboys to stomach watching the Cincinnati Bengals attempt to matriculate the ball down the field, you're not alone. According to a poll conducted by SportsHandle, Bengals fans are the NFL's most well-lubricated fan base. Alongside their Skyline chili, Cincy fans are tipping back more than five cups each Sunday.
On the other end of the spectrum, it seems as though 49ers fans are more interested in Sunday sushi than a pitcher of suds.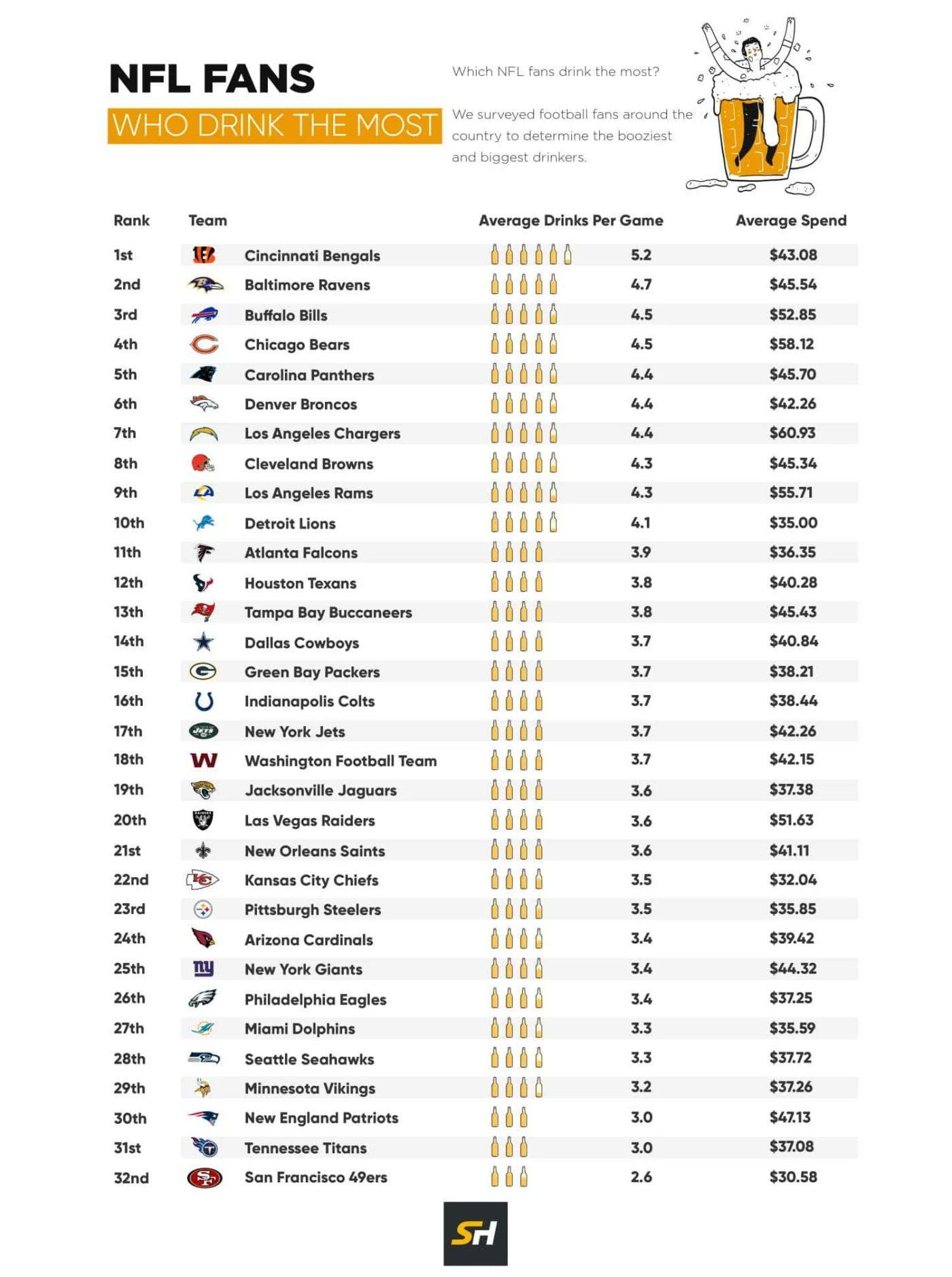 Over a nine day period in June, SportsHandle surveyed more than 2,000 NFL fans over age 21 to determine the league's thirstiest fanbase. The average age of those who completed the survey was 38.
Unsurprising to anyone who grew up in states where winter tends to last approximately eight to nine months a year, the midwest had a strong presence in the top 10. Nipping at Cincy's heels for the top spot was Bills Mafia at number three (4.5 drinks). Inter-state rival Cleveland's fan base consumes the eighth-most spirits (4.3). And Detroit rounds out the top 10 (4.1) booziest collection of football fans.
Bringing up the rear, with averages of 3, 3, and 2.6 cocktails per game were New England, Tennessee and San Francisco. Proving that Pats, Titans and 9ers fans are likely the least fun group to take in a game with. Have they never heard of Sunday Funday?
Congratulations, Cincinnati. A Super Bowl may not yet be within reach, but cirrhosis of the liver is attainable!