The curious case of Cormani McClain is one of the most compelling college football recruiting stories in recent history. It has led to an extremely awkward situation in Miami, and mind games in Boulder.
McClain, a five-star cornerback from Lakeland, Florida, is the top-ranked player at his position in the Class of 2023. The 6-foot-2, 165-pound prospect is considered at least a top-five recruit overall, and has the potential to provide an instant impact at whatever school he chooses.
But where will that be? That is the question for which everybody wants to know the answer.
McClain committed to Miami back in October. He was expected to sign his National Letter of Intent and make it official with 'The U' during the Early Signing Period.
That didn't happen. McClain did not show up at his Signing Day ceremony and did not sign.
This is where Deion Sanders and Colorado come into play.
By not signing in December, McClain's recruitment opened back up. At least to some extent.
He is believed to be deciding between Miami, Florida, Alabama and Colorado— but really just the Hurricanes and Buffaloes. It's all-but down to those two, which caused some awkwardness for Mario Cristobal and his staff on Friday.
McClain was thought to be visiting Coach Prime and his staff in the Centennial State over the weekend, but nobody could confirm one way or another. And that's when the mind games began.
First, a fellow recruit's Instagram Live appeared to show McClain — wearing his signature No. 7 chain — in uniform at Colorado. That was on Saturday afternoon.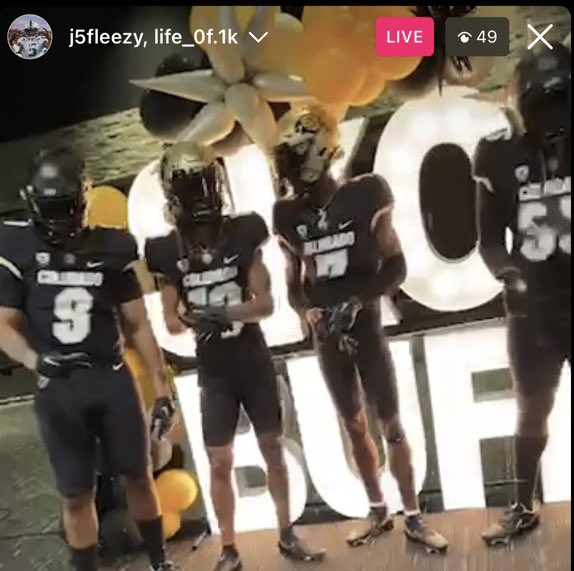 However, not long thereafter, McClain posted to his Instagram story. The caption read "yall trim" and the location was set to Tampa.
How could he be in Colorado if he was in Florida?
Instagram allows locations to be set to/from anywhere, at any time. So while the post didn't mean much, it certainly added more confusion to an already confusing situation.
The mind games continued.
On Sunday morning, Well Off Media posted a YouTube video with an interesting featured image. Well Off Media is run by Deion Sanders Jr. and serves as the most frequently updated and in-depth channel for any content surrounding Coach Prime. It goes deeper than the team's official social media accounts.
The video was titled "THIS MIGHT BE THE BIGGEST RECRUITING WEEKEND SO FAR FOR CU & COACH PRIME" and gave an inside look at Sanders and his staff's recruiting weekend.
At first, it featured an image of Coach Prime lined up as a wide receiver across from a recruit wearing No. 7— a.k.a McClain, probably. It was posted on late Saturday night/early Sunday morning.
Less than two hours later, the video's featured image changed. It was not subtle at all and showed Sanders in the foreground, with the previous image reflected and greyed out on the wall.
No more than an hour later, the image changed again. Where the greyed-out image of (probably) McClain and Sanders was fairly large before, it was sized down much smaller.
Currently, it is not there at all.
On Sunday night, McClain confirmed the (not-so) secret visit and posted photos from the trip.
So did his family.
Obviously, he was in Boulder the whole time.
What is next for Cormani McClain?
As a result of the visit, nearly every crystal ball has predicted that McClain will play for Colorado. He refused all interviews at the Under Armour All-America game and said that he would "sign on January 15."
Jan. 15 was Sunday, the day he left Boulder and flew back home. However, he did not announce a commitment and recruits were not allowed to sign on that date.
They could only sign a financial aid agreement at a prospective school, and maybe he did with Colorado before leaving campus. Either way, it is a non-binding contract.
McClain will have to sign his National Letter of Intent on Feb. 1. That is a binding contract.
At this point, McClain is expected to flip from Miami to play for Coach Prime and the Buffaloes. That could change, though, if the Hurricanes and deep-pocket booster John Ruiz put together an NIL package that he cannot refuse. It probably won't happen, but it could.
Assuming that McClain does choose Colorado, he would be the highest-rated prospect in school history. He would also join Travis Hunter Jr., the No. 1 overall recruit from the Class of 2022, in a secondary group coached by a Pro Football Hall of Fame defensive back. Sheesh.