One conference of college football's Power Five appears to be adding more juice. Friday morning, the Big 12 Conference formally extended invitations to BYU, Cincinnati, Houston and Central Florida. All four schools applied for conference membership earlier this week and are expected to formally accept their invites by day's end. The decision to apply for membership was met with unanimous approval from the Big 12's board of directors.
The Big 12 Conference announces it has unanimously voted to accept BYU, Cincinnati, Houston and UCF into the conference pic.twitter.com/sFNea4q2n9

— FOX College Football (@CFBONFOX) September 10, 2021
All four new members of the conference are expected to begin competing in the Big 12 in the fall of 2023. The conference's expansion comes less than two months after Oklahoma and Texas shocked the college football world by announcing they would be leaving the Big 12 for the SEC. An exuberant UCF previously requested to begin participating within the conference as early as July of 2023.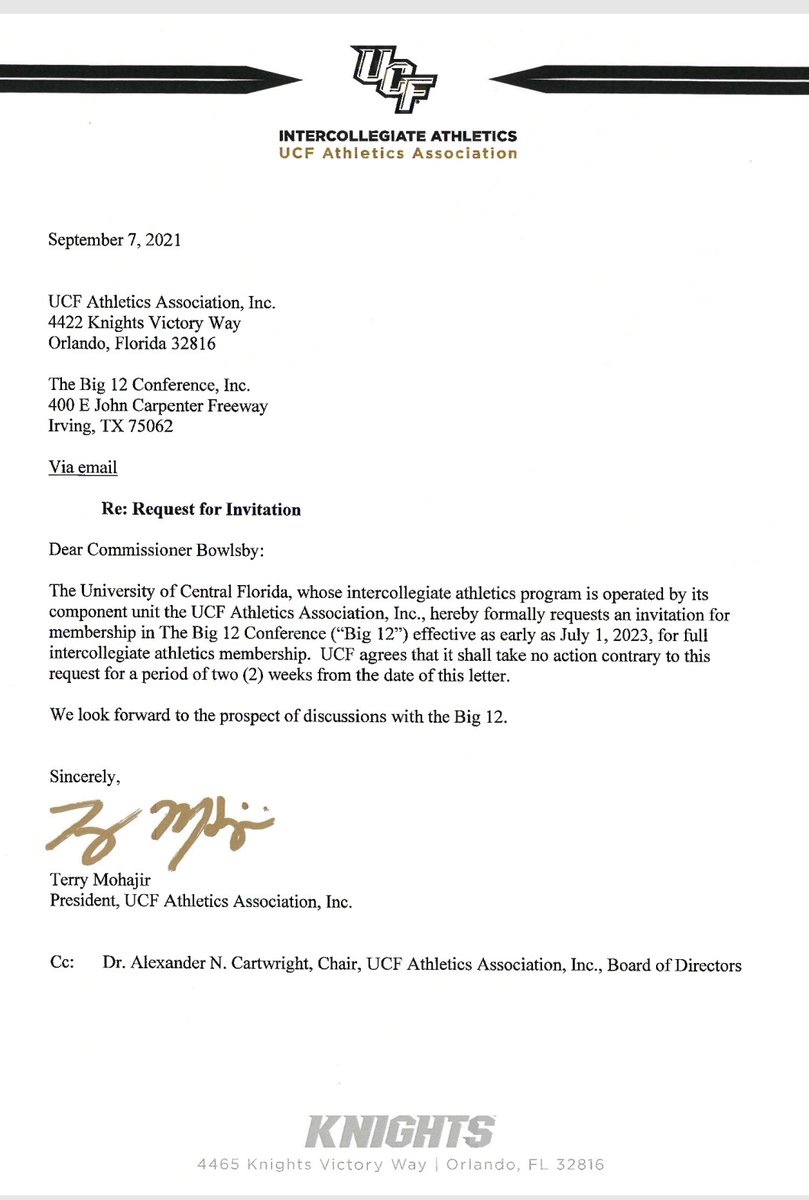 The Big 12's gain is the American Athletic Conference's huge loss. Cincinnati, Houston and UCF are all current members of the soon-to-be depleted AAC. (BYU's football program operates without a conference.) AAC Commissioner Mike Aresco addressed the news via press release:
"Today's news confirms what we have said all along regarding our status as a power conference. The irony that three of our schools are being asked to take the place of the two marquee schools which are leaving the Big 12 is not lost on us. Our conference was targeted for exceeding expectations in a system that wasn't designed to accommodate our success.
"All three of these institutions have enjoyed unprecedented success as members of The American, as have our remaining schools. Many of our schools have achieved competitive success similar to the departing schools. We have every expectation that the three departing schools will abide by the conference bylaws to ensure an amicable and orderly transition. We wish them continued success in the future.
"Our remaining schools are unwavering in their commitment to competing and succeeding at the highest level and we will not allow external factors to put a ceiling on our potential. We remain unified and resolute and will consider all of our options as we move The American into our second decade and beyond."
Should the conference proceed with the above mentioned timeline, a unique situation could present itself throughout the 2023 and 2024 football seasons. Both Texas and Oklahoma have previously stated that they plan to remain Big 12 members through June of 2025. Meaning, tenants new and old will be sharing the same real estate for a while.