It doesn't get much more American than home runs and Air Force salutes. When those two things come together like they did Saturday, it's patriotism at its finest.
The Falcons hosted the UNLV Runnin' Rebels for a three-game college baseball series at the Academy just north of Colorado Springs and scored 32 runs over the course of the weekend. They lost two of three, and aren't good this year, but the other two final scores didn't take away from the glorious moments that occurred during the only win.
Air Force won 17-5 in the second game of an April Fool's doubleheader, and their slugging was no joke! The future of America's military hit four dingers in the dub, with two of them going over 500 feet.
Let me say that again — two of the Falcons' four home runs traveled more than 500 (!!) feet. For non-college baseball fans, that is not normal. They were gargantuan blasts with the help of the Centennial State winds.
Designated hitter Jay Thomason stepped up to the dish in the fifth inning with a runner on second and mashed a tater deep over the right field wall. It was a moonshot!
According to the tracker, Thomason's two-run home run went 523 feet. Casual.
As Thomason rounded third and headed for home, he slowed his trot for a moment and offered a salute to his teammate who had already scored. It was the most respectful way to completely disrespect the UNLV pitcher after taking him nearly double the distance of the right field wall.
Here are the numbers behind the bomb: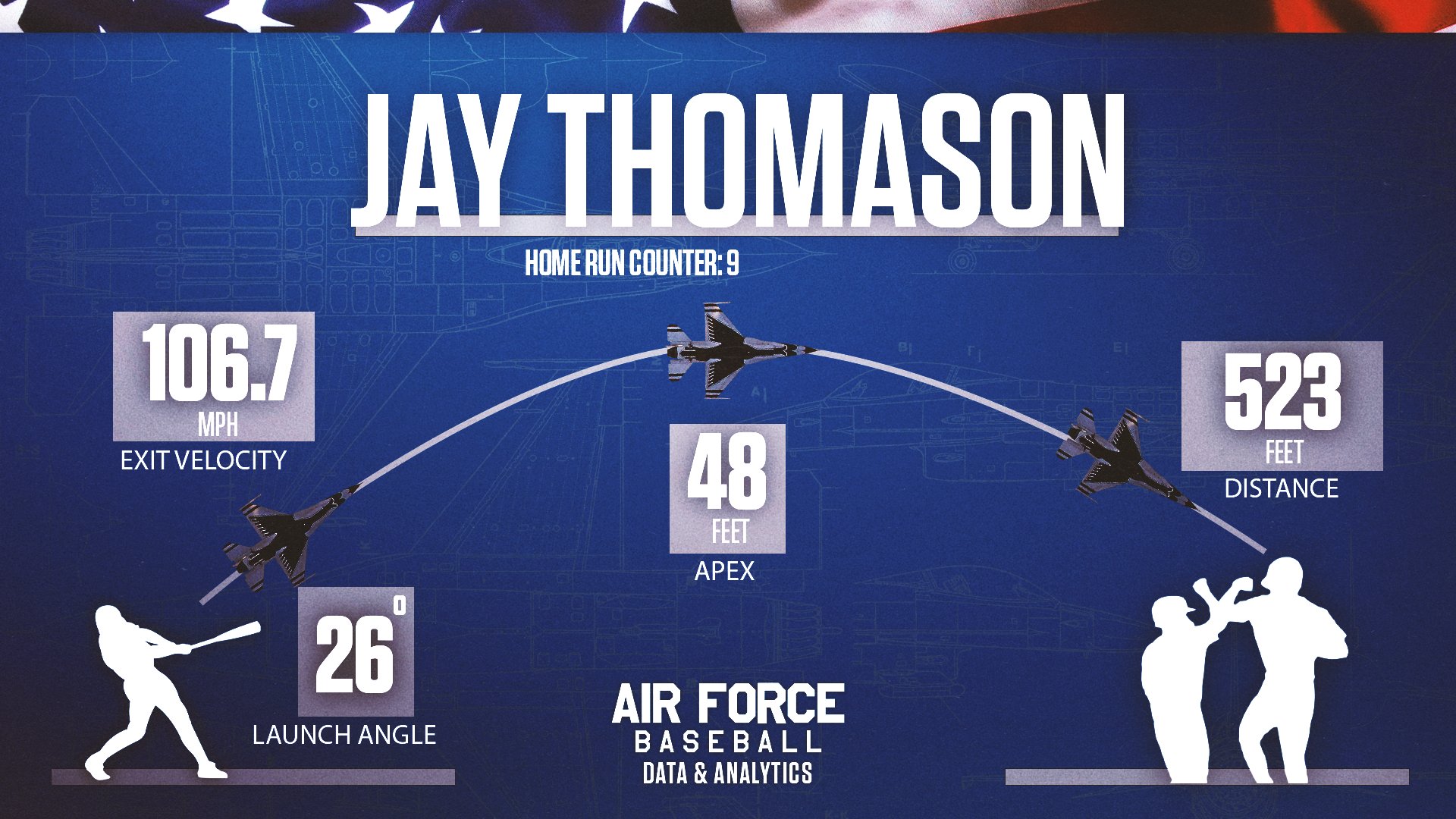 If one 500-foot+ home run wasn't enough, first baseman Charlie Jones hit another one 506 feet during the seventh. His dinger left the bat at approximately 104 miles per hour and went over the batter's eye in center field.
Although Air Force didn't win the series, they won the game. And they won in the most American way possible— by going big!