The field at Super Bowl LVII was questionable, at best. While the main concern was the footing of players, the poor conditions reflected negatively on Oklahoma State.
Leading to the Super Bowl, the Cowboys were eager and proud to promote their Division of Agricultural Sciences & Natural Resources. Oklahoma State researchers developed a new variety of turf, Tahoma 31 bermudagrass, which was rolled out in Glendale during the big game Sunday.
The NFL worked with the Pokes over the course of two years to prepare the grass for this year's Super Bowl.
It was grown at a local sod farm in Phoenix and installed two weeks prior to kickoff. The entire process cost the league $800,000.
Nope, that's not heaven — it's the Super Bowl field.

Shoutout to @gottolive923 for the pictures.

He is the General Manager at West Coast Turf Farm in Scottsdale, Arizona, and spent the last 18 months growing the Super Bowl field. pic.twitter.com/69r8V4QtwD

— Joe Pompliano (@JoePompliano) February 12, 2023
Once it was ready, the grass sat on a 40-inch deep tray. It measured 234-feet wide and 403-feet long.
Unique technology at State Farm Stadium allows the field to be rolled in and out to get sunlight throughout the week. It should have been perfect.
Instead, field conditions were one of the biggest storylines of Super Bowl LVII for all of the wrong reasons. Players were slipping left and right.
Even while celebrating touchdowns.
Even Eagles quarterback Jalen Hurts had to change cleats between quarters to try and counteract the field under his feet. He switched from 1/2-inch spikes to 3/4-inch spikes for better footing and was not the only one.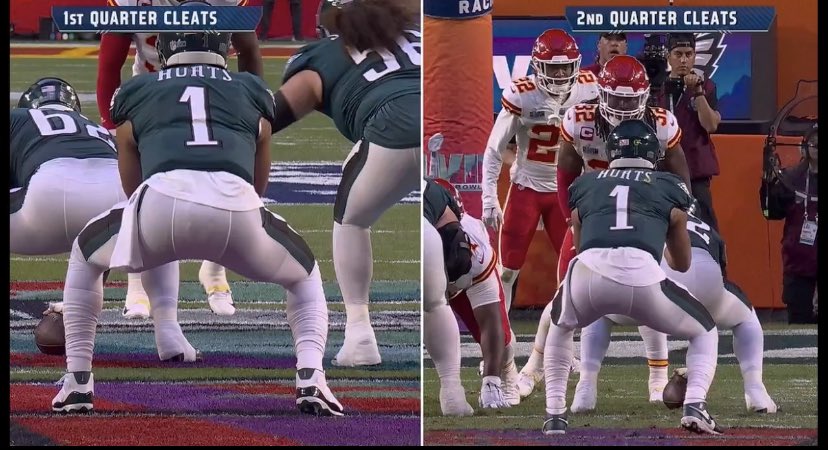 Despite all of the expense and preparation, the field conditions were terrible all night. The players were not happy.
Although Philadelphia linebacker Haason Reddick doesn't want to make excuses, he said that the field hindered his ability to turn the corner on a pass rush after beating his man. The former first round draft pick did not hold back after the game.
I'm not going to lie: It was the worst field I've ever played on… It was very disappointing. It's the NFL. You would think it would be better so we could get some better play, but it is what it is. I don't know. Maybe the league will look at it and tell Arizona they got to step their stuff up.

— Eagles linebacker Haason Reddick
Left tackle Jordan Mailata said that it was "definitely subpar." Players from both sides were even talking about how bad it was in between plays.
Chiefs defensive end Frank Clark called field conditions "kind of terrible." He said that he had to dig his feet into the turf more and more as the game went on because he was slipping so much.
It was not a good look for the NFL, and in turn, Oklahoma State. The Cowboys got flambéed.
Really crappy product for football. Getting destroyed on a worldwide broadcast.

— Ryne Duren (@R_Duren14) February 13, 2023
Burn the research and rest of the seeds

— Shaquille O'Neal (Parody) (@rocky25579) February 13, 2023
Your grass sucks

— lara merkel ross (@laramerkelross) February 13, 2023
Your researchers suck

— Ryan Trauger (@Traugatron) February 13, 2023
Literally, the field is pic.twitter.com/FPcjiXmOND

— Scott Wessels (@luvernechatter) February 13, 2023
Back to the drawing board

— Gilded Peppers (@gildedpeppers) February 13, 2023
Reviews aren't too great for it so far

— WRMJ Radio (@wrmj) February 13, 2023
Your turf sucks. Keep it in Oklahoma.

— MB (@MBilunes) February 13, 2023
More than likely, the Pokes were not at fault for the terrible field conditions! They just make the grass, they don't grow it or care for it. That is on the league and its people.
OSU even said so.
Even still… it was a rough night for the Division of Agricultural Sciences & Natural Resources at Oklahoma State. They were happy to take credit before the game but quickly hit the panic button after!