Glenn 'Shemy' Schembechler was on staff at Michigan for just three days before he resigned Saturday. The son of legendary Wolverines football coach Bo Schembechler was hired as the assistant director of recruiting May 17 and was out by end of day on May 20.
The decision to step down came amid scrutiny over his behavior on social media.
Schembechler was found to have liked a number of insensitive and offensive tweets with derogatory implications.
Shemy Schembechler's liked tweets led him to resign.
Several of the posts, from late January, suggested that slavery and Jim Crow laws had a positive effect on the strength of Black individuals and families.
The tweets that Schembechler liked were part of a thread in response to Jason Whitlock's tweets:
Here is a look at the full thread:
Schembechler also liked tweets looking at BLM and Jan. 6.
Another one of Schembechler's likes implied that a group of African American folks fighting in the street were the type of people that voted for President Joe Biden.
He also liked a tweet that implied Congressman Hakeem Jeffries was/is on drugs. Another one of his likes included a gif that depicted Jeffries, and "the House minority," as a tribe of indigenous people.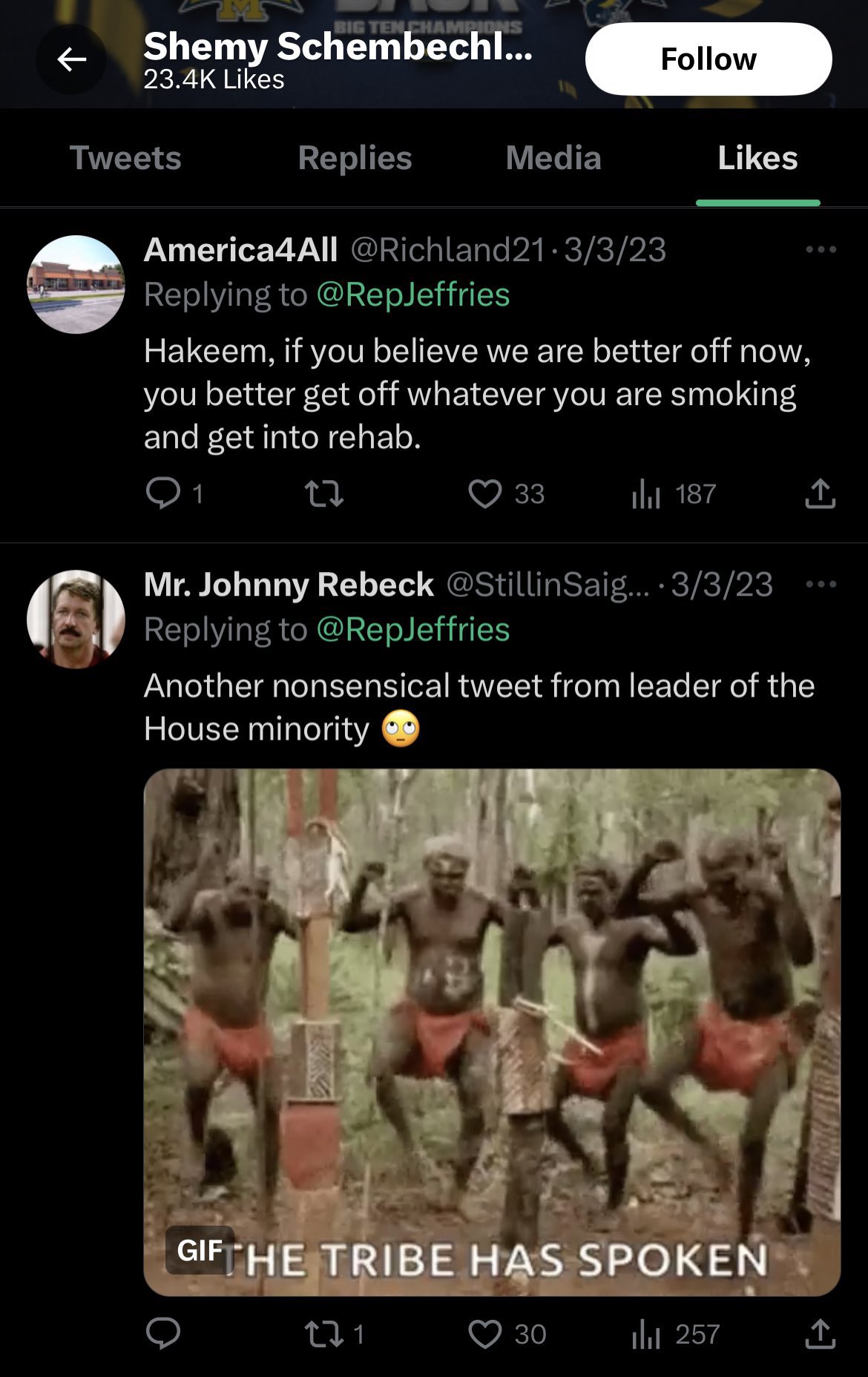 Others took issue with Schembechler liking a more recent tweet from BlazeTV host Steve Deace which touched on transgender people, and 2024 presidential Robert Kennedy Jr.
As Schembechler's likes started to surface online on Thursday night into Friday, a purge began. His account reflected that he had liked as many as 23.4K tweets Thursday, and as few as 21.6K on Friday evening.
More than likely, he used a third-party application to unlike tweets in mass. Many of those apps can only unlike a set number of tweets per month.
The Twitter account, @ShemyScout, has since been removed entirely.
Schembechler's father is beloved in Ann Arbor, where he remains the winningest head football coach in school history. His son is no longer with the program, which was also his alma mater.