Rob Gronkowski stuck to his word and stayed retired from professional football for the entire season despite rumors of teams calling him and trying to get him to play just one more down.
Gronkowski retired from the NFL after the Tampa Bay Buccaneers were eliminated from the 2021-22 NFL playoffs by the eventual Super Bowl champion Los Angeles Rams. Throughout the season, Gronkowski faced continuous rumors about him returning to the NFL, but it never transpired.
ROB GRONKOWSKI DONATES TO DAMAR HAMLIN FUND IN MOST GRONK-WAY POSSIBLE
The four-time Super Bowl champion ignored the phone calls and text messages.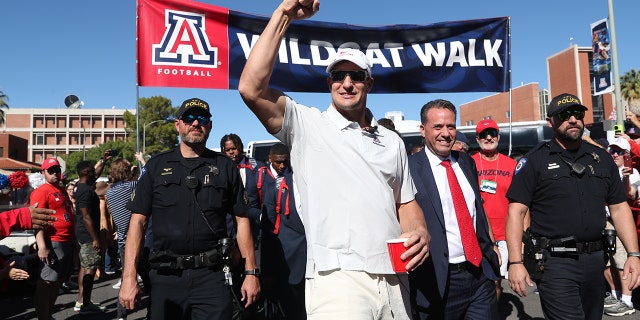 "I know, man. I just kind of ignore them," he told Fox News Digital. "I laugh, you know. I send some funny things back, but it's also very humbling. It's very cool to be in that situation as well thought to where you're still wanted. Usually, in the NFL, you get chewed up and you get thrown out right away. You get spit up and spit out, and therefore it's just cool to be in that situation.
"I would say just one of a few out there to have teams call, and you can come back and play in the NFL. So, that's definitely a humbling experience. But the mindset is just not there. And I just enjoy my time off and very content on where I am."
Rob Gronkowski Makes His Super Bowl Pick
Gronkowski, who works for FOX as an NFL analyst, told Fox News Digital in September he believed the Buccaneers would be playing in Super Bowl LVII. However, after an 8-9 record and a rocky season, the Bucs' play made the future Hall of Fame tight end change his mind as far as Super Bowl contenders go.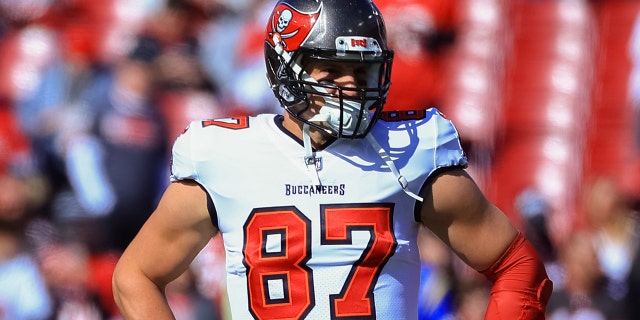 "I think they're going to do some damage," Gronkowski said of the Buccaneers. "They're definitely can be a dangerous team at any time. You look at the receivers they have, and obviously with Tom (Brady) as the quarterback, he can lead anyone down the field at any time in any given situation. They're definitely a dangerous team. I think they're going to put up some points. Mike Evans, I feel like is going to set up, have a pair of touchdowns in the game, and it's just going to be exciting to see what they do it.
"I believe that they have it. I mean, it's going to be a challenge for sure. It's going to be a tough road. Especially with the 49ers out there. The capabilities of that defense with (Nick) Bosa coming off the edge and just getting to the quarterback and just frustrating the quarterback. It's going to be a tough road.
"I'm going to go with the 49ers in the Super Bowl versus my hometown team, the Buffalo Bills."
Gronkowski may not be playing in the Super Bowl, but he is bringing the big game atmosphere to Arizona during the week. He will be hosting Gronk Beach at the Talking Stick Resort in Scottsdale on the Saturday before the game.
Gronk Beach will feature Monster's new line of malt beverages, The Beast Unleashed, and music from 21 Savage, Diplo and Lil Jon. The entire event, including a celebrity volleyball game, will take place at Talking Stick Resort in Scottsdale the night before the Super Bowl kicks off. Gronkowski has previously held the Gronk Beach events in Miami during Super Bowl week and during NFL Draft weekend in Las Vegas. Tickets for this year's event go on sale Thursday.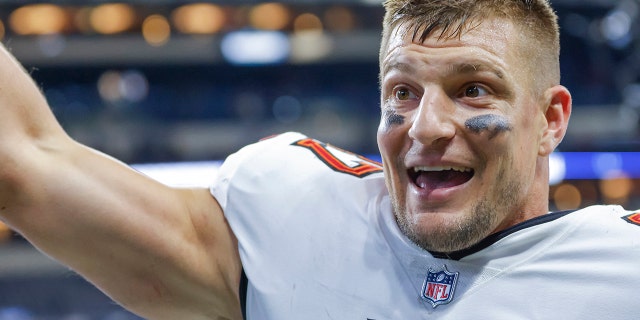 The former tight end told Fox News Digital he hoped to do something at the event for Buffalo Bills safety Damar Hamlin, who suffered a cardiac arrest and collapsed on the field during a game against the Cincinnati Bengals. There has been an outpouring of support from current and former players, like Gronkowski. He donated $69,000 to Hamlin's charity and wanted to give back some more.
Ryan Gaydos is the sports editor for Fox News Digital.