Oklahoma fans woke up to a great surprise Saturday morning. The only problem was that it wasn't real.
You see, April 1 is April Fool's Day, and the Sooners got got.
David Stone Jr., a five-star defensive line recruit from Bradenton Florida, stands 6-foot-4, 270 pounds. He is considered the No. 2 player at his position and one of the top 10/15 recruits overall.
Based on his tape, it's not hard to see why!
Although Stone does not have to make an official decision until February, he could chose to commit at any time, and is expected to sign in December during the Early Signing Period. The Class of 2024 standout has 34 scholarship offers in total, but Texas A&M, Miami, Oklahoma, LSU and Michigan State appear to be the top five.
He was in south Florida on Saturday to check out 'The U,' even though Brent Venables and the Sooners are considered to be in the lead as of right now, according to recruiting experts.
And before making his visit to Hurricanes country, Stone proved the experts right. Except that it was a joke.
He posted a graphic that indicated his commitment to Oklahoma and followed it up with a disclaimer.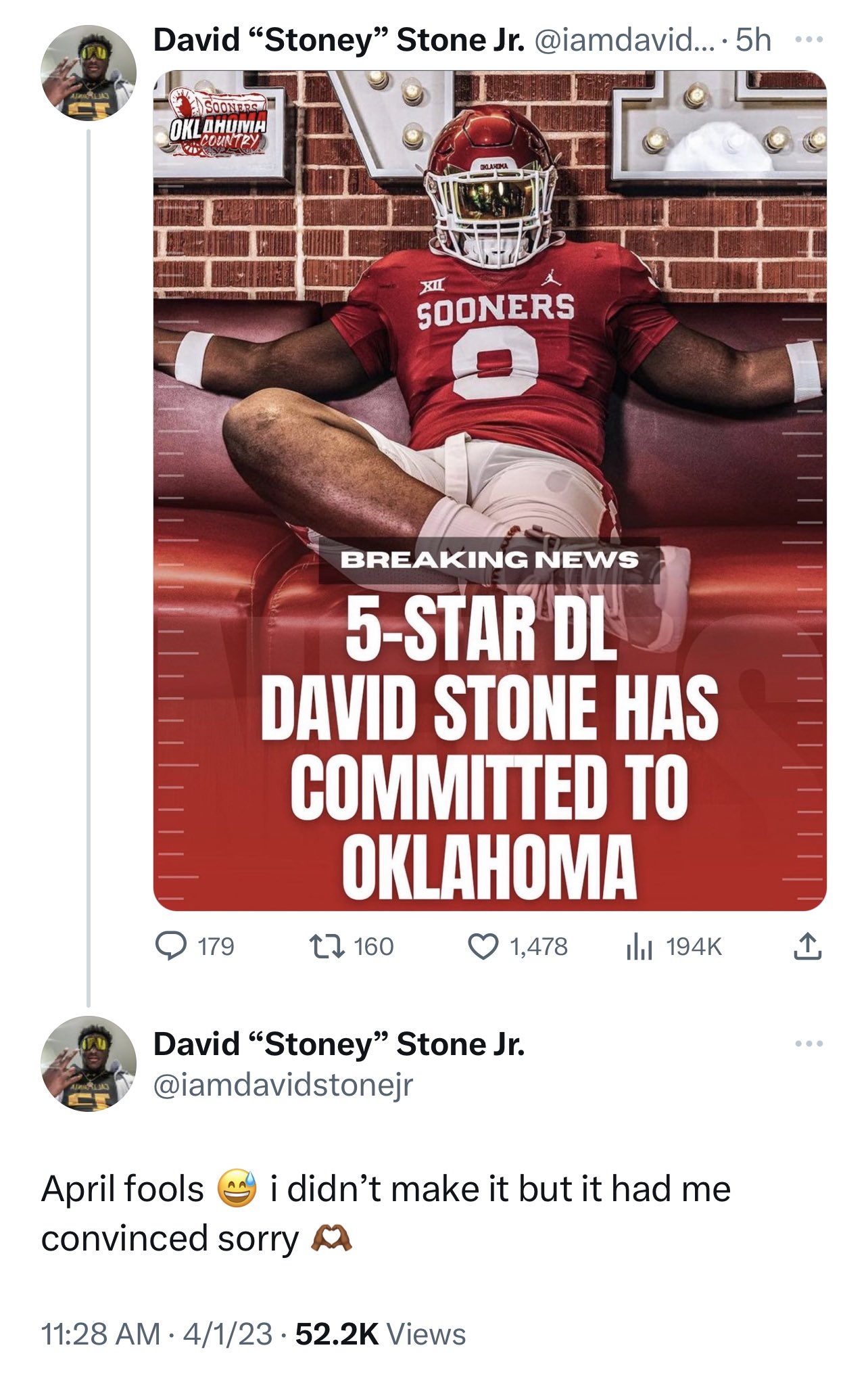 Sooners fans, many of which didn't see the follow-up tweet, were ecstatic. They got their guy!
Only they didn't. Yet, at least.
Once the people of Norman discovered that it was an April Fool's Day prank, they lost their minds.
Are you 10 years old? Grow up 🚩

— ryan (@Turnovachain) April 1, 2023
Bro I stood up at my table at the restaurant in excitement just to see this is a joke. Smh lmao

— Boomer (@BoomSoon01) April 1, 2023
Unfollowed. Go play for A&M Mr. Attention

— ZachAttack (@TheHumbleZach) April 1, 2023
And as could be expected, the prank made its way onto the message boards. Oklahoma fans were not any more rational there than on Twitter.
Things got so bad that Stone couldn't keep with the joke. His replies were a mess, so it was easier to just delete the commitment tweet so that nobody could reply at all.
Tough day to be a Sooner!