Northwestern University president Michael Schill has issued an update on the investigation into hazing allegations surrounding the Wildcats football program and head coach Pat Fitzgerald. His statement came just a few hours after the entire football team pushed back on grotesque claims made by anonymous former players to the student newspaper.
The situation in Evanston first came to light when the school announced that Fitzgerald will be suspended for two weeks without pay, effective immediately. That decision came down on Friday.
Fitzgerald's suspension stems from an investigation into hazing allegations, led by attorney Maggie Hickey of the 'ArentFox Schiff' law firm. It did not find "sufficient" evidence that the coaching staff was aware of what was happening behind the scenes.
At the same time, the investigation determined that there were "significant opportunities" for the coaching staff to become aware of the ongoings, and to then report the conduct. Fitzgerald said that he was "very disappointed" to hear about the hazing allegations.
Further information about the investigation and its findings were not disclosed at the time. Just Fitzgerald's suspension.
That changed on Saturday.
The Daily Northwestern, the student newspaper at one of the top journalism schools in the country, published an illuminating report in which they spoke to multiple former football players on the condition of anonymity. It outlined, in grave detail, some of the alleged practices within the program.
Many of the claims were extremely sexual in nature. Fitzgerald was accused of being attune to, or at least having knowledge of, the alleged hazing.
Every single current player pushed back on the report.
A letter issued by the entire football team to "the Northwestern Community" called the allegations "exaggerated and twisted." It also stood by Fitzgerald and said that he was not aware of the behavior.
Northwestern is now deciding what to do next.
Three hours after Wildcats players issued their letter, Northwestern president Michael Schill chimed in for the first time. His "updated on hazing investigation" alluded to an ongoing conversation.
Schill admitted that he was "focused too much on what the report concluded [Fitzgerald] didn't know." Instead, he should have been focused on "what he should've known."
In addition, Schill said that he "just learned the name" of the player who first reported allegations. The investigation was confidential, so he was not aware before, and he has since spoken to his family.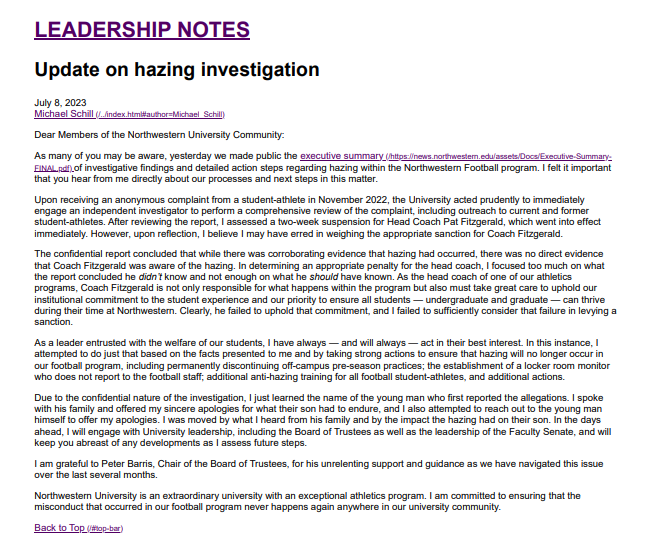 Schill is committed to ensuring that misconduct will not happen again within the football program and beyond. In the meantime, he and Northwestern leadership will meet again to decide the next steps.
Fitzgerald is currently suspended for two weeks without pay. However, his future is now in question.
Schill and his team will have a decision to make on Fitzgerald, and soon. In the meantime, further conversations will be had surrounding the future of the 48-year-old, who is the best player in program history and has been with his alma mater as head coach since 2006.